home > hull construction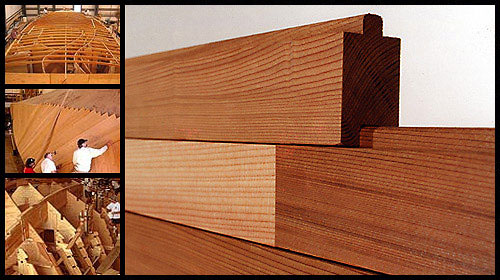 Maritime Wood Products can supply all of your wood needs for hull construction, including the following products:



Speed Strip is the ultimate strip planking material for many applications in boat building, repair and restoration. It is the fastest, easiest way to build a strong, rigid, lightweight wooden structure. Principal uses include hull and plug construction, decks, hardtops, and cabin sides.

Speed Strip has been successfully used to build mono-hulls and multi-hulls up to 200 feet in length.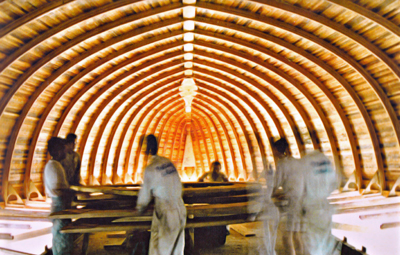 Speed Strip Planking System utilizes a unique, interlocking tongue-and-groove profile. The profile, which is precision machined to a tolerance 0.015 mm, allows room for the tongue to rotate up to 7 degrees while holding firm in the groove.



Even with complex shapes, Speed Strip planks snap together quickly and securely without a tendency to override each other when twisted. The result - tight inside joints, and minimal gaps on the outside curve.



The Speed Strip system provides major savings in materials and labor. It requires half the mold stations and frames, minimum fastenings and less glue (because of reduced glue squeeze-out). The self-fairing, precision fit of Speed Strip planks eliminates the need for scarfing and edge fastening, while cutting fairing and cleanup time by up to 70%. The simplicity of the process not only reduces labor hours, but also allows for the use of less skilled labor.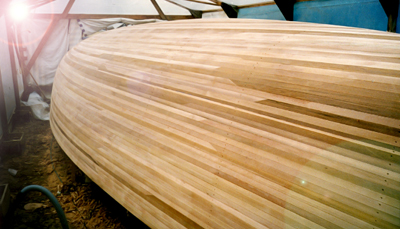 Speed Strip is manufactured and supplied in the United States exclusively by Maritime Wood Products under license from Joseph Thompson & Co. Ltd. Of Sunderland, England.

All Speed Strip orders are individually custom milled in sizes from 3/8" (thick) x 3/4" (wide) to 1-3/4" x 2-3/4".
Lengths are 10 feet and up.
Subject to minimum purchase requirements.
For more information about the advantages of building with Speed Strip Planking System, please click here.



From vertical grain lumber for stringers to flat sawn lumber for laminated curved stems, Maritime Wood Products sources and supplies the best clear Douglas Fir available.

Free of heart center (FOHC) quality specification - for less twist, cup and crook.

Subject to minimum purchase requirements.



We source select Khaya Mahogany and can supply custom milled planking in any thickness for cold molded construction. Matched and sequenced boards are also available for applications such as classic Chris Craft and Riva restorations.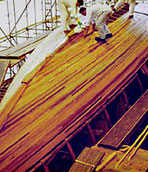 Superior Fit Construction
Using specialized milling equipment, MARITIME's Speed Strip™ planking system creates the finest fit, lowest waste, and maximum wood to wood contact.