home > contact us




Thank you for your interest in Maritime Wood Products. We would be happy to supply your next project. You'll join our growing list of customers who have come to rely on our highest standards for quality, service and dependability.

If you have questions - or to place an order - please reach us by one of the following methods:


Phone:
Call (800) 274-8325 or (772) 287-0463 during our business hours,
Monday through Friday, 8:30am - 5:00pm EST
Fax:
(772) 287-5031
24 hours/day - 7 days/week
Mail:
Maritime Wood Products Corp.
3361 S.E. Slater Street
Stuart, FL 34997
Email:
sales@maritimewoodproducts.com


Thank you for visiting our site. We hope the information has been helpful and informative. If you have any suggestions or would like more information, please complete our e-mail form - we'll respond in timely fashion.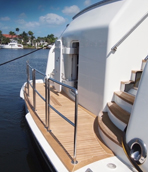 Expert Support
Call us to discuss your requirements and goals. We will apply our knowledge and experience to ensure your project's success.